TRAIBLAZER
This book titled 'Trailblazer: A Series of Agritech Use Cases'. is the output of eight agritech startups who were part of First Cohort of AIP at AgHub. Ten startups were selected for validation of an identified problem at ground level with the deployment of technology based solution after a joint exploratory assessment of agritech startups in association with the key stakeholders such as Research and Innovations Circle (RICH) and Information Technology, Electronics & Communication Department (ITE&C), Govt. of Telangana. The pilots were actualized at appropriate agro-climatic locations for select crops to pilot the solution. The experience of executing these pilots has been pioneering, enriching and encouraging for the AgHub team and its stakeholder startups, scientists, students, and the farmers. It has now become a flagship program of AgHub attracting several market ready startups to validate their technology at farm level in partnership with domain level expert advice.
To avail the softcopy, write to us at : contact@ag-hub.co
TRACEX: BLOCKCHAIN TECHNOLOGY IN AGRICULTURE
AgHub has helped entrepreneurs pilot with seed traceability by incubating them. TraceX was a part of our programme, the Agri Innovation Pilot ,  cohort I . In addition, AgHub has facilitated a  pilot opportunity  for TraceX   where they have studied seed traceability. While doing the pilot with us there was a Request for Proposal from the Government of Telangana, in which TraceX participated and won the tender for their solution.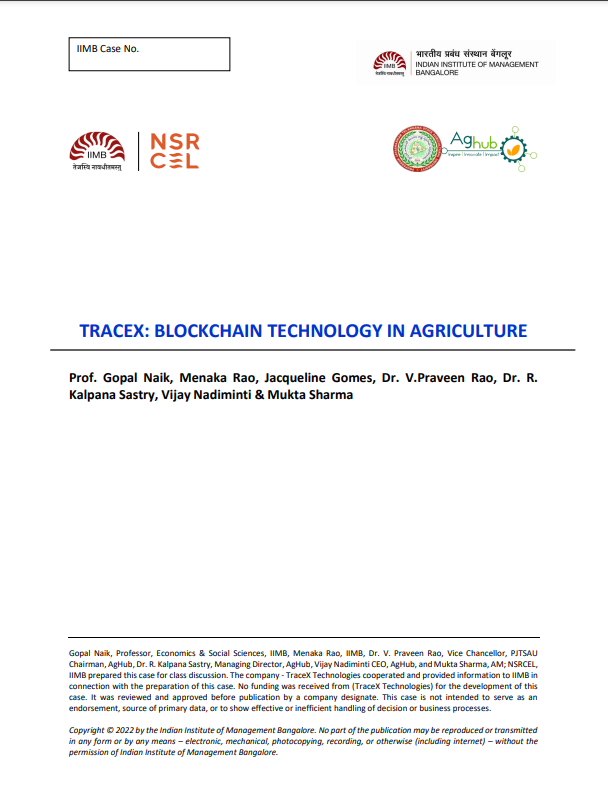 A Compendium of 75 Market Ready Technologies of PJTSAU

This book titled 'A Compendium of 75 Market-Ready Technologies of PJTSAU' seeks to present a brief profile of market ready technologies stemming from the hard work of researchers, students and academia of PJTSAU over the last decade. Each technology is a result of scientific validation, with field-testing and client acceptance. The teams from AgHub, Agri innovation hub of PJTSAU and the offices of Research programmes across the sectors of plant breeding, farm-based operations, farm machinery, community science and nutrition faculties have collaborated to present these in the most comprehensive manner.
To avail the softcopy, write to us at : contact@ag-hub.co
The Transverse of Agritech into Agfarms
AgHub Brochure ( English)
Agri Innovation Pilot Brochure
AgHub Rural Brochure ( Telugu)
Article on AgHub in hans India
The Agri Innovation Hub in Telangana
Contact Us
AgHub
Agri Innovation Hub of PJTSAU
State Bank Road
PJTSAU, Rajendranagar
Hyderabad - 500030
Telangana, India
Phone 040 - 23014515
Supported by