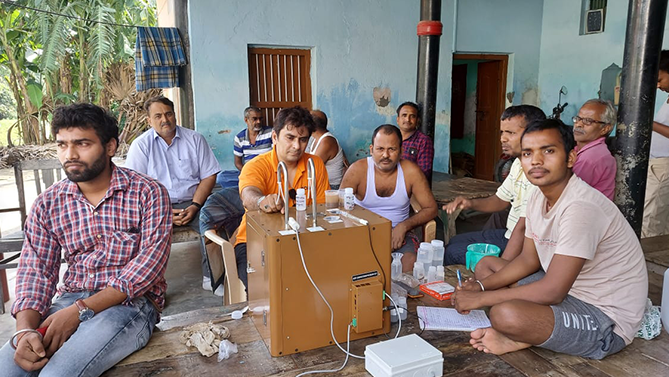 KRISHITANTRA aims to bring revolutionary technology in soil testing. 
"When the soil is deficient, the plants also are deficient and weakened, and they lose their defenses" – Charlotte Gerson 
Sandeep Kondaji, CEO & Founder of Krishitantra seems to understand the quote better than anyone else. Sandeep Kondaji quit his job in the Middle East and came back to India due to his passion for agriculture and the urge to address global agricultural challenges.  To understand agriculture in-depth, he did farming for six months during this period he interacted with many farmers, KVK'S, and Agriculture universities to understand the problems faced by the farmers. He figured that soil health plays a vital role in crop production and the existing soil testing method doesn't provide all the necessary information and microbiological parameters. He felt a need for a soil testing device that can provide an accurate and overall picture of the soil composition with nutrients and the biological composition of the soil which is equally important.
Sandeep along with his two friends Dr.Dr. Vishnu Prasada Bhat, Co-Founder & CTO, and Anand B R, Co-Founder &COO started ' KRISHITANTRA', which aimed to make an impact and happiness in farmers' life. 
Krishitantra, a game-changer in soil testing techniques.
 Krishitantra (M/s Klonec automation systems Pvt ltd) is an Agri-tech startup specializing in soil technology, farm data acquisition, and related cloud services by building disruptive solutions for soil analysis using cutting-edge technologies. The objective is to encourage the balanced application of fertilizers leading to higher farmer income, soil rejuvenation, savings on irrigation water, reducing water contamination and greenhouse gases, etc., which shall save on farmers' expenses by the reduction in the purchase of Agri-inputs and significantly enhance their livelihood.
  Krishitantra's one of the products KrishiRASTAA (Rapid Automated Soil Testing and Agronomy Advisory) is a portable and reliable way to determine soil quality. Now the farmers can get their soil report instantly with the interpretation of the soil analysis. KrishiRASTAA's soil testing technology is an automated system that takes soil as input and provides all macro and micronutrients, pH, organic carbon, EC, and microbial count reports within minutes. This system requires no expertise to operate and is portable. The system generates reports and is a cloud-based interpretation.
 Krishitantra's other commendable invention is Krishi Jivan Micro Biometer is a rapid on-field microbial testing solution, a portable, app-based microbial analysis system that has been designed to provide bacterial fungal ratio and microbial carbon on the go.
(Source: Krishitantra website) 
Krishitantra's Services 
 Krishitantra has more than 250 installations with 193 partner centers across India and has performed more than 35,000 soil tests for 24,000 farmers and has covered more than 1,04,000 hectares of arable land. The services offered include Krishitantra's soil testing centers are available across 18 states all over India. Farmers can visit or click here to find the nearest test centers where they can get their soil analyzed. After the completion of the test, the user can log in to his/her Krishitantra account and download the soil test report. 
"Rapid soil testing along with real-time agronomy digitizes an important component of farm extension services. The data play at the farm level is of huge value. This affordable solution would benefit farmers, FPOs, and other players in the agri ecosystem. Krishitantra has a market-winning solution in the making."
(source: your story)
  AgHub's Role
 The startup Krishitantra as a part of AgHub's Agritech Innovation Pilots started implementing soil testing using "KRISHIRASTAA  at AgHub PJTSAU. Piloting was carried out with 100 farmers in Siddipet, Telangana for sampling, scientific advisory, farmer assessment, and scalability. Farmer engagement is often a challenge for Agritech startups. Participating in the pilot helped Krishitantra to reach farmers through the outreach wing of PJTSAU. The startup also understood the need for building rapport with farmers especially in vernacular language as an important and crucial step in deploying technology. Not only talk but real-time convincing is essential. These are all additional learnings for Krishitantra through Agritech Innovation Pilots provided by AgHub.
https://ag-hub.co/wp-content/uploads/2022/03/669-X-377-2.png
377
669
priyanka
https://ag-hub.co/wp-content/uploads/2022/03/AgHub-Logo-1030x489.png
priyanka
2022-03-17 13:28:22
2022-03-24 09:07:08
KRISHITANTRA